Loft Ideas - Managing the light
Inviting the light into your home is one thing, but how you manage it is another.

Thanks to the VELUX® extensive range of specially designed blinds, you can control not only the amount of light a room receives, but also its direction and quality. For decoration, ensuring a comfortable room temperature or to reduce energy costs, VELUX® Blinds are specifically designed with those needs in mind.

The range includes Blackout, Blackout Duo, Roller, Energy, Flying Pleated, Venetian, Awning and Flat Roof Window Blinds which have all been designed with supreme functionality in mind as well as looking sleek and modern. They are also available in a wide range of contemporary patterns and fabrics. And the unique Pick&Click!® technology means all VELUX® Blinds are quick and easy to install.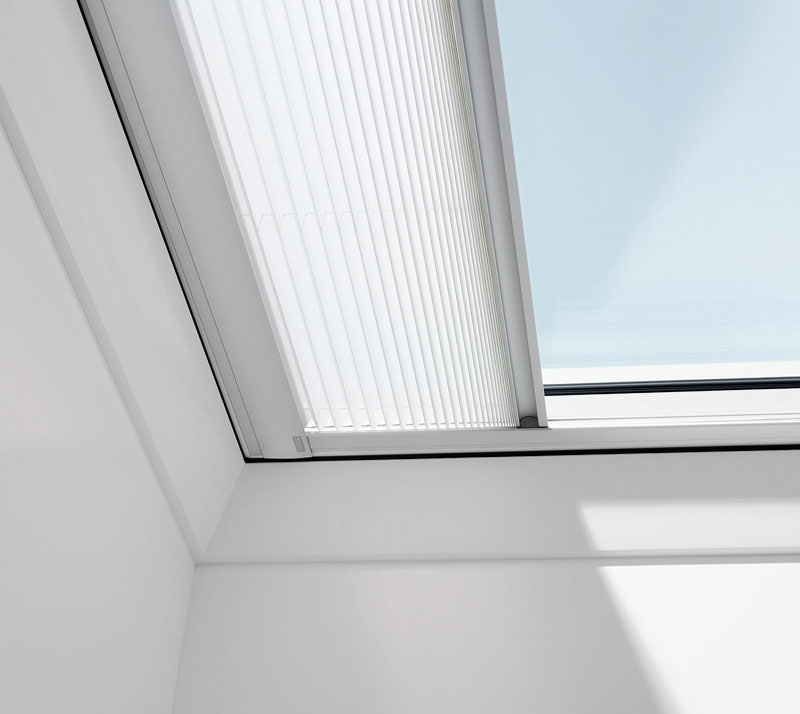 Convenient, easy to use light control
Solar remote operated blinds are wireless and come with a fully charged battery. Electrically operated blinds are recommended for INTEGRA® electrically operated roof windows and are controlled by the remote supplied with the electric window. Ideal for those out of reach windows or for adding that extra level of comfort. All this and more with a peace of mind three year guarantee.
| | |
| --- | --- |
| | VELUX® Blackout Blinds provide the best total darkness for both night and day. Perfect for afternoon naps and those lighter summer days, they are ideal for installing in bedrooms and they'll keep you comfortable too. Each blind features an aluminium foil that reflects heat from the sun in summer whilst retaining heat in the winter. Available for manual, solar and electrical operation. |
| | VELUX® Blackout Duo Blinds are a combination of the classic Blackout and Pleated Blinds. You can block out as much of the light as you want with the Blackout Blind then use the semi-opaque Pleated Blind to diffuse the rest of the light that enters the room. Available for manual operation. |
| | VELUX® Roller Blinds are practical, decorative and can add a finishing touch to virtually any room. They provide basic privacy, whilst still allowing natural light in. This makes them particularly suitable for home offices and playrooms. Available for manual, solar and electrical operation. |
| | The VELUX® Flying Pleated Blind allows you to create colourful and original light effects, diffusing the light coming into your room. The unique 'flying' design gives you the flexibility of positioning the blind anywhere on the window - it's not fixed to the top or bottom making them ideal for installing in living rooms or dining areas. Available for manual and electrical operation. |
| | The VELUX® Venetian Blind can turn an ordinary room into a space of true beauty by combining simple chic appeal with everyday practicality. This popular range is easy to wipe clean and is the ideal solution for any room in your home that encounters high levels of humidity, such as kitchens and bathrooms. Available for manual and electrical operation. |
| | VELUX® offers blinds for your VELUX® Flat Roof Windows. In the selection there is an electrically operated pleated blind which allows you to control the amount of incoming daylight whilst also decorating your room. Available for electrical operation. |
For more information on sizes and prices of Energy Blinds and Awning Blinds please call Loft Ideas on 01730 812212.